Special Block for Roe Deer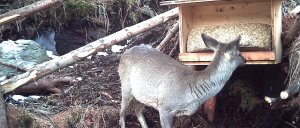 The SWB Special Block is a protein-rich supplementary feed for roe deer and combines different kinds of cereals with minerals and trace elements, forming a hard block.
Sales unit
Special Block20 kg block or 2 x 10 kg in an outer box
Size (l/w/h):50 cm / 25 cm / 16 – 17 cm
Weight per block:20 kg
Information for printing out
Benefits
Reduces feeding costs by up to 50 %
Helps reduce browsing damage to the main terminal shoots.
Helps to prevent rumen acidosis.
Increases the roughage intake; supplement with leafy clover aftermath or lucerne.
Refilling of the feed block is required once a week only.
Application
To accustom the game to the taste of the feed block quickly, chip off 1–2 kg of the feed block's edges when feeding for the first time, and mix with succulent feed (e.g. apple pomace, silage).
Do not feed any other (loose) game feed, as this would discourage the game from eating the hard block.
Protect the block from direct rain and sunshine.
Supply at least 2 blocks.
Feeding advice
Always observe the country-specific and/or regional hunting regulations.
The blocks should be put out from the middle of September. If possible, protect the blocks against rain. At the beginning of the feeding period it is recommended to put out several half blocks per feeding as this allows even low-ranking or non-territorial animals to access the blocks. If the blocks are accepted well, succulent feed could additionally be offered.
As soon as there is a lack of browse in the hunting district the blocks should no longer be halved. This avoids unnecessary disturbances in the district.
Thus, you can feed around 24 to 48 roe deer throughout the winter from October until the beginning of May with a pallet of Special Blocks, containing 48 pieces á 20 kg.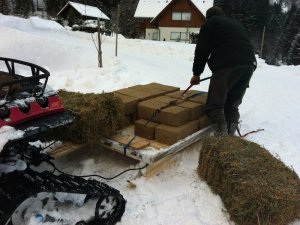 Media data
Please click on a picture to start the gallery.
If you are a new customer you should start feeding the blocks from the middle of September - for your roe deer will need some time to get used to the special block - by putting out only half a feeding block per feeding interval at first, which must be well protected against rain. As soon as you get the impression your game has accepted the feeding block you can add the other half of the feeding block in an appropriate distance so that non-territorial game such as two-year-old does and yearlings can get to the feed without difficulty. For large groups of game (from 10 - 15 animals) we recommend putting out 4 - 5 half blocks as soon as winter has set in or the roe deer take in the two half-blocks quickly (within one week), to keep the game constantly supplied with feed. The blocks can be supplemented with succulent feed; aftermath (clover hay) or, better still, good alfalfa-clover aftermath should be supplied in sufficient quantities.
It is very important to supply your roe deer with high-quality roughage!
After the onset of winter with snow and freezing temperatures you no longer need to half the blocks - that way, they will last twice as long. Towards the end of winter and into spring, when feed consumption decreases noticeably all of a sudden, you return to feeding half blocks and keep reducing their quantity as winter is retreating, until finally the roe deer are once more supplied with 1 to 2 half blocks only.