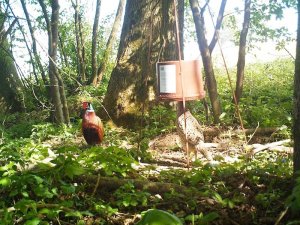 Both the SWB Pheasant Block and the SWB Partridge Block are high-quality complementary feeds for pheasants and partridge and support the natural feed intake with cereals, sunflower seeds, shell grit and minerals. The only difference between the products is their form, in a tub (T) or as a block (B) for feeding under a protective roof.
Sales unit
Pheasant Block:9 kg bucket
Partridge Block:5 kg block or 4 x 5 kg in an outer box
Size (l/w/h) 5 kg block:20 cm / 15 cm / 15 cm
Vorteile
(T+B) feeds 20-30 pheasants for approx. 2 months.
(T+B) very good acceptance; keeps animals in their habitat.
(T+B) species-appropriate composition.
(T) no browsing by roe deer.
(T) no rat and mouse damage.
(T+B) easy to transport and handle.
(T) weather-resistant.
(T+B) ideal complement to other feeding systems.
(T+B) optimum feeding of the hens in spring.
Application
(T) Remove the "handle" of the tub from the fastening.
(T) Fasten the handle to the designated holes in the bottom of the tub.
(T) Cut a round hole of about 18 cm into the lid of the tub.
(T) The remaining lid serves as a cover and prevents the feed block from falling out.
(T) Hang up the tub with the aperture facing downwards, approximately 30 cm above the ground and in a safe place for pheasants and partridge.
(B) Place on a mat/stone plate protected against ground moisture under the roof.
Media data
Please click on a picture to start the gallery.
Storage
The Pheasant Block is stored in closed, cool and dry as well as well-ventilated rooms. Under these conditions, a shelf life of 6 months is guaranteed.